St. Stephensdom 2007
St. Stephen's Cathedral (German: Stephansdom) in Vienna, Austria, is the seat of a Roman Catholic Archbishop, a beloved symbol of Vienna, and the site of many important events in Austria's national life. It was first built as a parish church of the Diocese of Passau in 1147 and rebuilt and enlarged over the centuries, with major new work concluding in 1511, although repair and restoration have continued from the beginning to the present day.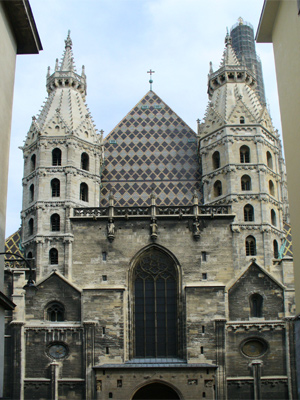 The Dom from the west. On the left and on the right are the two Roman towers which are about 65 meters (215 feet) tall. They are called "Roman" (heidnischen in old Viennese dialect) because they were built from rubble of structures built by the Romans during their occupation of the city site.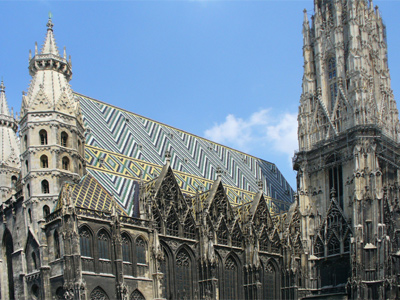 The view from the side with part of the 445 foot tall South Tower on the right.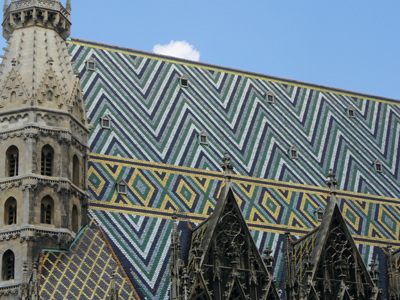 A glory of St. Stephen's Cathedral is its ornately patterned, richly coloured roof, 111 meters (361 feet) long, and covered by 230,000 glazed tiles.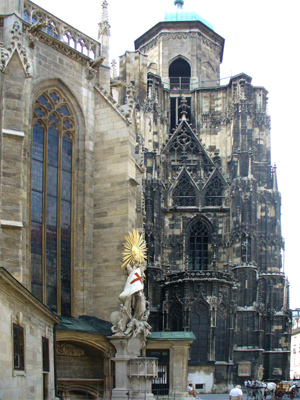 The north tower, planned as a twin to the south tower, has not been completed and is only half as tall, at 68 meters (223 feet). It was given a temporary cap that when its construction paused in 1511.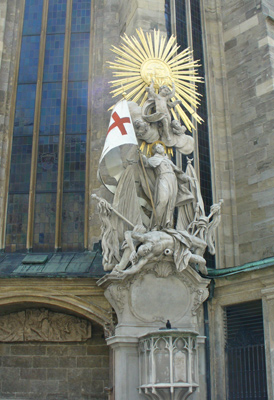 The pulpit, now outdoors, from which St. John Capistrano preached a crusade in 1454 to hold back Muslim invasions of Christian Europe. The 18th century Baroque statue shows St. Francis under an extravagant sunburst, trampling on a beaten Turk. This was the original cathedral's main pulpit inside until it was replaced by Pilgram's pulpit in 1515.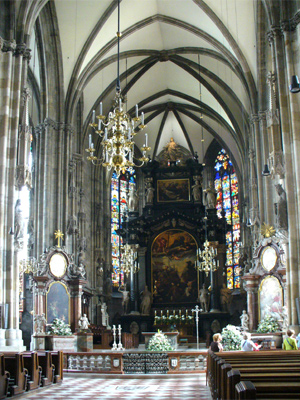 The interior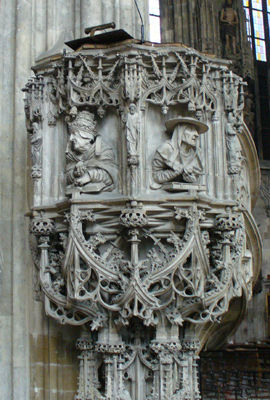 A masterwork of late gothic sculpture is the stone pulpit. The sides of the pulpit erupt like stylized petals from the stem supporting it. On those gothic petals are relief portraits of the four original Doctors of the Church (St. Augustine of Hippo, St. Ambrose, St. Gregory the Great and St. Jerome), each of them in one of four different temperaments and in one of four different stages of life.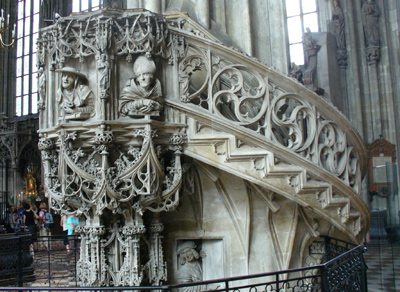 Another view of the pulpit



The Hofburg Palace 2007





This first Hapsburg residence grew with the family empire from the 13th century until 1913, when this new wing was opened. The winter residence of the Hapsburg rulers until 1918, it's still the home of the Spanish Riding School (with the famous Lipizzaner stallions), the Vienna Boys' Choir, the Austrian president's office, 5,000 government workers, and several important museums.























A courtyard in the complex.







Three horses in the Spanish Riding School, two nipping at one another.















We sailed that evening to the small town of Tulln where we docked for the night.







Vienna 2017





The Jesuit Church, also known as the University Church, is a two-floor, double-tower church. Influenced by early Baroque principles, the church was remodeled by Andrea Pozzo between 1703 and 1705.







Despite its relatively austere exterior, the interior is remarkably opulent with ersatz marble pillars, gilding and a number of allegorical ceiling frescoes.















The current Romanesque and Gothic form of the cathedral, seen today in the Stephansplatz, was largely initiated by Duke Rudolf IV (1339–1365) and stands on the ruins of two earlier churches, the first a parish church consecrated in 1147.





Its multi-coloured tile roof, become one of the city's most recognizable symbols