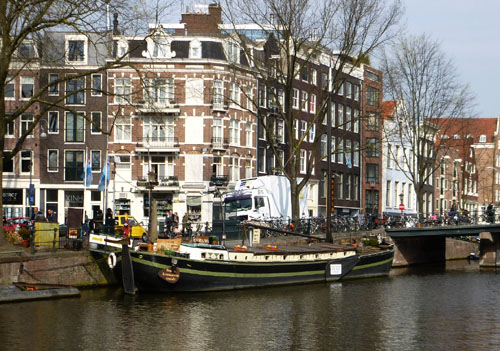 We began the day with a visit to a houseboat museum - on this houseboat.

A sketch of the houseboat.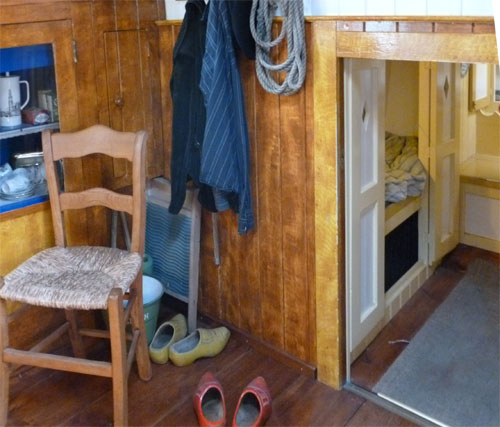 The entrance area with the bedroom in the background.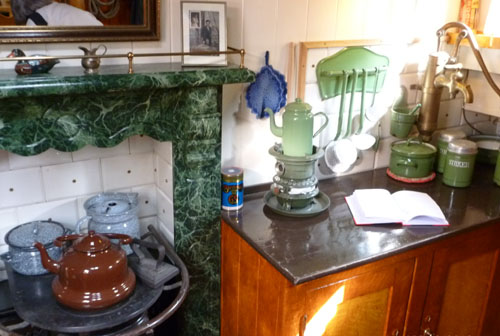 The kitchen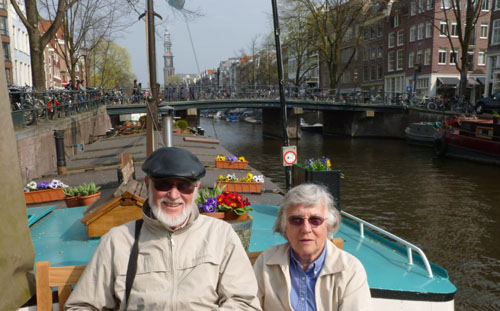 We had to have a typical tourist photo taken here on the deck of the houseboat.



Next we visited the Oude Kerk, built in the 14th century. Additions were made in the 15th century so it was then close to its present size.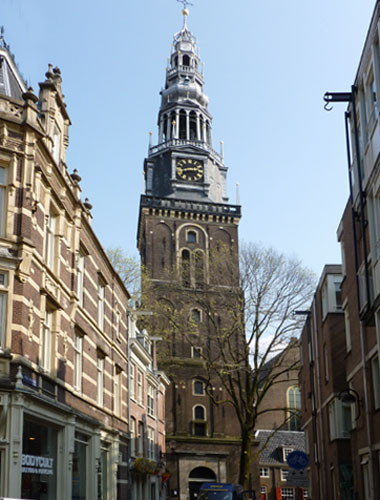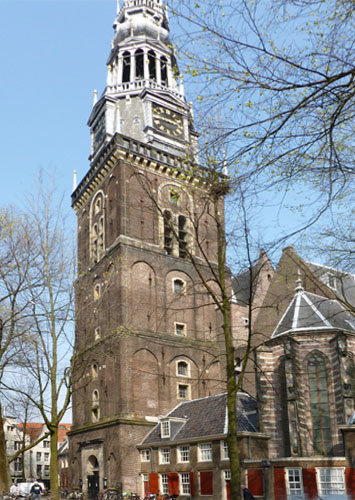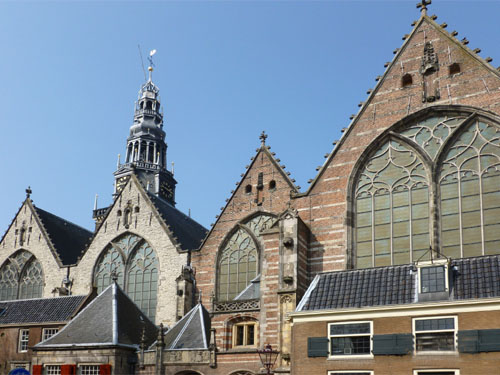 The side of the Oude Kerk. Note the small 18th century houses built along the side of the church, both in this photo and the right photo above.
The 'Oude Kerk' suffered from the iconoclastic fury in 1566 when the church was violently looted and the images were destroyed. The victory of the Calvinists in 1578 made this violation complete. Images of saints and altars had disappeared from the church.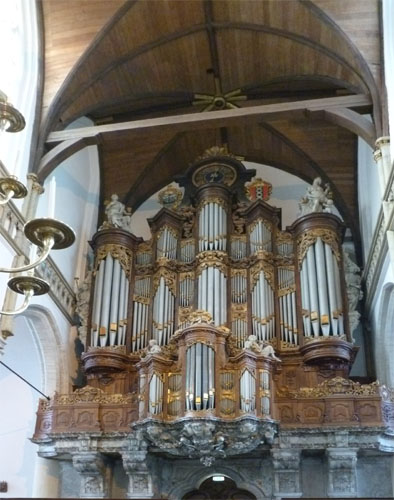 In the 17th century the two organs were placed in the church and one of them is the well-known Vater-Müller organ (1724).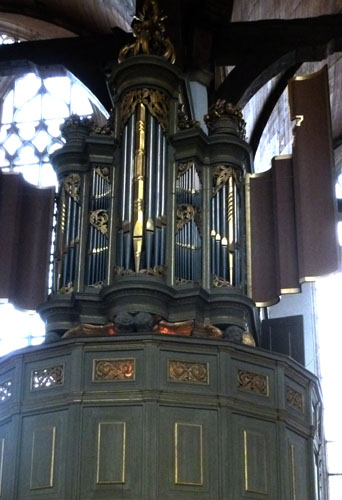 This is the smaller organ and we sat for a while listening the organist practice.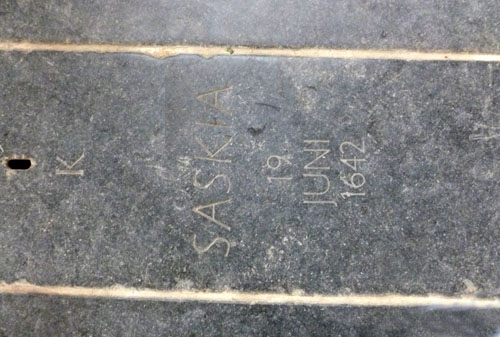 We found the gravestone for Saskia, the wife of the artist Rembrandt.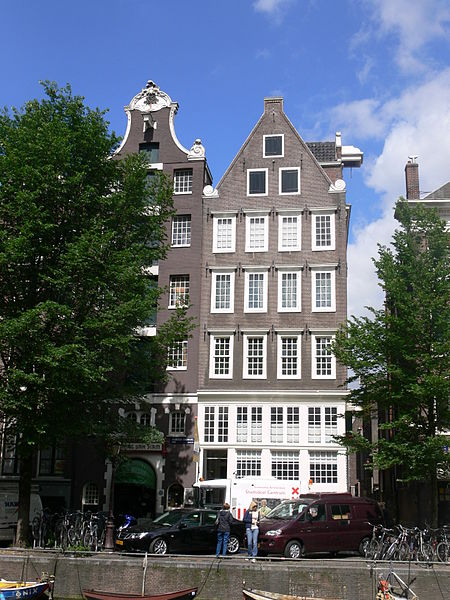 We walked a short distance to see another church with quite a different history. This canal house contains the Museum Amstelkring (Ons' Lieve Heer op Solder, "Our Lord in the Attic"), built in 1661 inside this private house.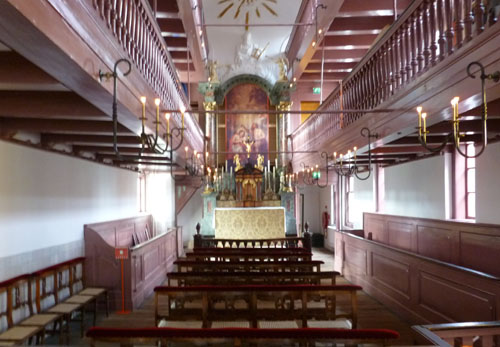 Behind the characteristic facade of the canal house lies a completely hidden church which occupied the entire top floor of the canal house and the two houses behind it. This hidden church 'in the attic' was built during the Reformation, when Catholics were forbidden to hold public services.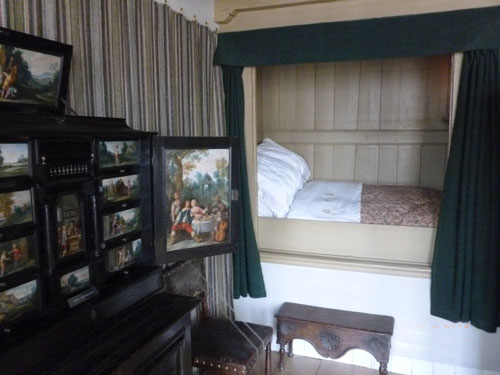 It was also interesting to see other rooms in the house. This is a bedroom.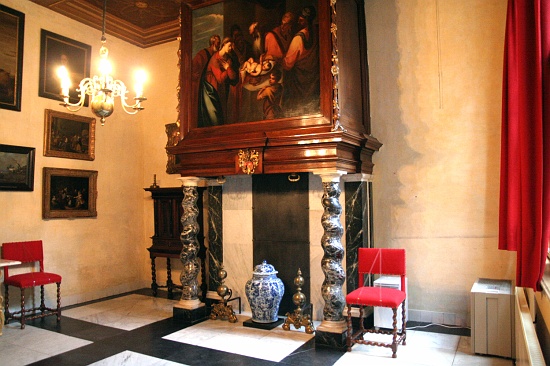 The drawing room, designed by the wealthy merchant owner to receive guests.



We had wanted to eat dinner in another Dutch restaurant, but it was closed. So we returned to the Haeseje Claes for a lighter meal of pea soup, salad and Dutch croquettes. I also had to try the herring, a favorite Dutch dish.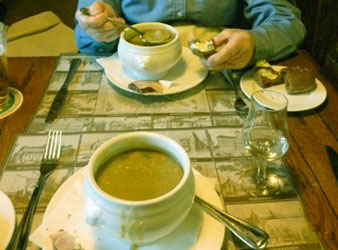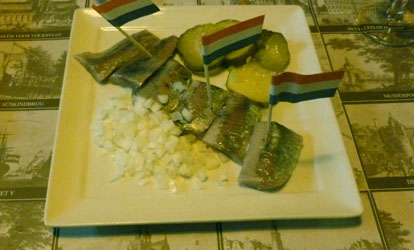 Tomorrow is our last day in Amsterdam.