From May 7 through May 18, 2003 a group of 26 people traveled in the Heart of France on a Rick Steves "Europe Through the Back Door" tour with Matthieu Walraven as bus driver, Sabine Leteinturer as assistant, and Patrick Vidal as our guide.
This is a picture of the group, taken in the Tuileries with the Louvre in the background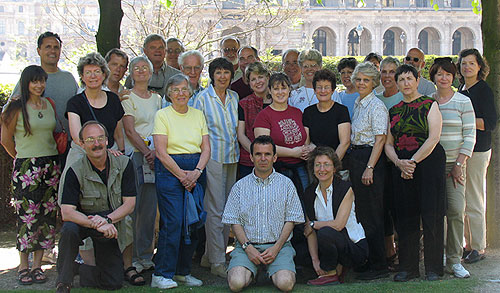 Photo by Hal Mortensen.
Click here to see a larger picture of the group.
We were a diversified group, ranging in age from 18 to 72. We came from various parts of the country, Washington(11), California(9), Missouri(3), North Carolina(2) and Louisiana(1.) We had a wide range of travel experience, ranging from those who were in Europe for their first time to those who had been there 15 times or more, leading tour groups of their own. We came from a wide range of backgrounds and careers, but all self-selected to traveling in the manner of Rick Steves in seeing the country "through the back door."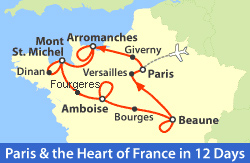 As the map to the right indicates, we started in Paris and ended in Paris. You can either pick areas you would like to see from the drop-down menu at the top of each page or you can follow our itinerary by following the link at the bottom of each page to the next site.
Start in Paris