From March 9 through March 12, 2008 a group of 17 people traveled on a tour of Greece from Thessalonica (A below) to Athens(G), offered by Pilgrim Tours. In Athens another group of 18 joined us for a day in Corinth(H) and Mycenae(I) before we all boarded a ship for a cruise to three of the Greek islands: Mykonos(J), Rhodes(K) and Patmos(L). We docked in Kusadasi(N) in Turkey where 9 from the original group spent the afternoon in Ephesus(M) and then returned to Athens. The remaining 27 of us also spent the afternoon in Ephesus and then went on to see the sites of the seven churches John mentioned in the Book of Revelation. The tour for us ended in Istanbul(Z).
There is a photo of the second group here.
We were blessed to have two excellent guides- Costas Tseves in Greece, and Rashid Ergerer in Turkey.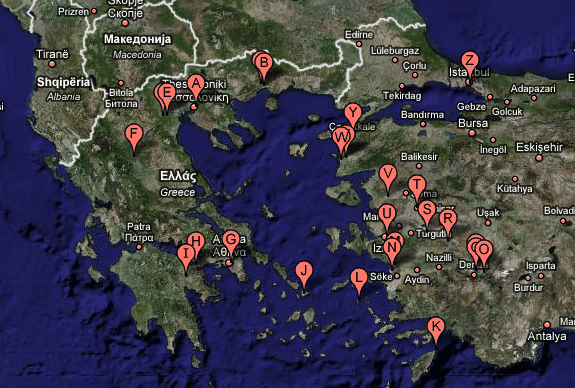 Click on the map above to see an interactive Google map and itinerary of the tour.
To follow this tour you can either pick areas you would like to see from the drop-down menu at the top of each page or you can follow our itinerary by following the link at the bottom of each page to the next site.
The first group began the tour in Thessalonica and the second group started in Athens.