History

When Paul arrived in 51 CE, Athens was a small city, about 20,000, far smaller than Corinth at 100,000, and well past its prime. Still, for prominent Greeks and Romans, it was a center of learning and the philosophical pursuit of truth. The Golden Age of Athens had been in the 5th century BCE during the rule of Pericles (b.495, d.429) who transformed Athens into an imperial city at the expense of other Greek city-states. Growing in power after repulsing the first Persian invasion at Marathon in 490, Athens' powerful navy dominated the Aegean Sea and Pericles built the Parthenon, the Erechtheum, and the Propylaea on the Acropolis with tribute money he extracted from the client states of the Athenian empire.

Biblical Significance

Paul doesn't say anything about Athens in his letters except that he was there (I Thess. 3:1), but Luke, the author of Acts, tells an interesting story of Paul's activities there (Acts 17:16-34). According to Luke, while waiting for Timothy and Silas, Paul explored the city. He no doubt visited the Acropolis, a religious shrine, for "he saw that the city was full of idols." He visited the synagogue and discussed his message with "the devout." According to Acts, he spoke "daily" in the Agora, the civic and cultural center of Athens. There, he attracted the attention of some Epicurean and Stoic philosophy teachers, the leading philosophies of the day, who invited him to speak to them at Mars Hill.



Our first view of the Parthenon as we got out of the bus at the Acropolis.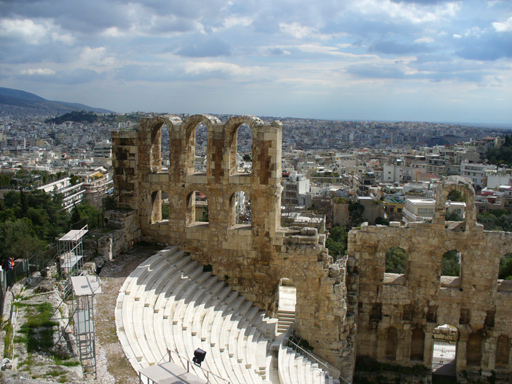 As we went up the hill towards the Acropolis, we saw the Odeion of Herodes Atticus of Marathon (161 BC.)It could seat about 5,000 spectators and had an elaborate stage wall that rose about 85 feet to the level of the roof. The roof was constructed of cedar and the floor of the orchestra and the rows of seats were covered in marble.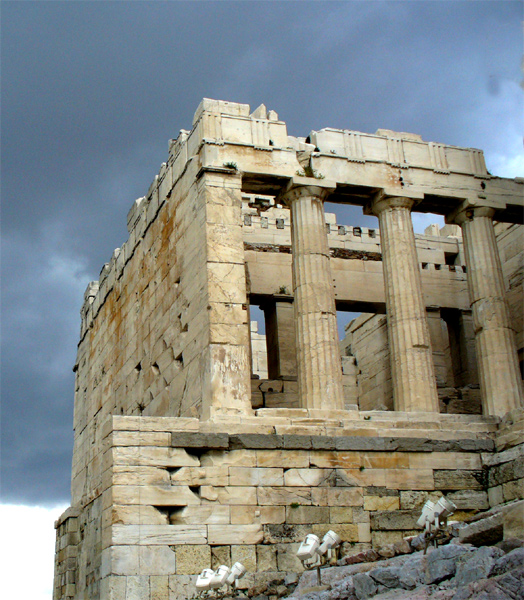 This is one of the wings of the Propylaea (before the gate)which was built after 437 BC.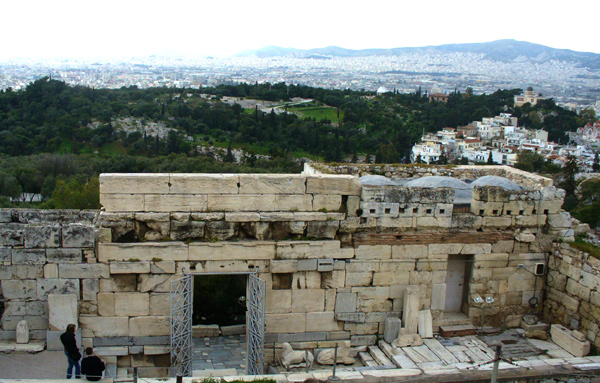 From this spot we could see the Beule Gate and beyond it the hill called Pnyx (tightly packed together) where the Ecclesia or public assembly of Athens would meet to discuss issues of the day and vote on them. More detail on these assemblies can be found at this site.
The word ecclesia means "called out" and was later used by Christians to describe the Church.