Genealogical History and Map

Don's ancestor's places of origin are in blue in the map below.

His paternal grandfather, Pieter Kiel, was born 9 May, 1855 near the village of Slochtern in the Province of Groningen. As a child of just over a year old, he made the voyage to the United States, with his father, Lammert Hendriks Kiel, his mother, Swaantje Kraak, and two brothers, Berend, and Hendrik. The ship was the South Carolina and it sailed from Rotterdam and arrived at the Castle Garden Immigration Center in New York on 22 July, 1856.

Derkje Vink, his paternal grandmother, was born 12 December, 1860 in Noordeloos, Zuid-Holland. After her father, Arie Vink, had died, she sailed to America in 1865 with her mother, Mageltje (Vogel) Vink. In the US, Mageltje married Jan Van Rhee in 1867, and they later lived in the old homestead with Pieter and Derkje Kiel.

His maternal great-grandfather, Hendrik Brummel, was born in Doornspijk, Gelderland, on 27 August, 1815. He and his wife, Styntje Pruim, sailed from Antwerp on the Troy and arrived in New York at the Castle Garden Immigration Center on October 7, 1857. With them they brought their children, Gerrit, Dries, Hendrik, Jannigje, and Gerritje. Don's grandfather, Frank Brummel, was born in the United States, on 20 July, 1862.

Dirk Boonstra, his maternal great-grandfather, was born 3 January, 1827, in Ferwerderadeel, Friesland. He sailed from Antwerp on the Benjamin Aymar and arrived at the Castle Garden Immigration Center in New Tork on June 15, 1857 with his wife, Maaike Hijma and 4 children, Eekijk, Aache, Maach, and Henah on the Benjamin Aymen. Don's grandmother, Ike (Eke) was born 11 April, 1868, in the United States.

All four of these families settled in Western Michigan in the area around Holland and Zeeland, where my grandparents met, married, and began raising their families.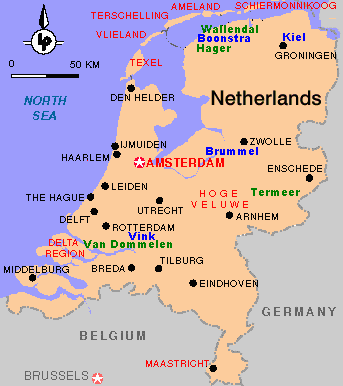 Elizabeth's ancestor's places of birth are in green in the map.
Her paternal grandfather, Rinze Hager, was born in Berlikum, Friesland, on 18 August, 1866. Rinze emigrated to the USA April 6, 1887. (The Castle Garden records show a Rinse Hager, age 21, arriving in New York 24 April, 1886 on the ship Zaandam from Amsterdam.) Rinze's parents, Kornelis Klazes Hager and Dirkje Tietes de Jong, left for America together with their children Harmen, Sake and Dirkje on April 12, 1889. They returned on August 8, 1890 with Harmen and Dirkje, so Sake stayed in the USA.
Trientje Wallendal, her paternal grandmother, was born 20 June, 1868, in Ferwerd, Friesland. We have been unable to find her on any passenger list but there is a record of her father, Sjouke Roelofs Wallendal, born 26 September 1843 of leaving Ferwerd on 27 March 1882 for Michigan, as noted in Frisians-to-America.html, but no record found of his arrival, with or without his family. Census records of 1900 list Trientje's immigration year as 1881 and the 1910 and 1920 censuses list her arrival date as 1882.

Trientje and Rinze were married on February 15, 1888 in the Netherlands so they must have gone back to the Netherlands for the wedding.
Her maternal grandfather, William Termeer, was born in Neede, Gelderland, on 3 September, 1863. William came to the U.S. with his father, Gerrit Termeer, his mother Hendrika, and a sister, Gerritje, age 9. They sailed from Le Havre, France on the ship City of Dublin, arriving on 20 September, 1866 in New York, according to the Castle Garden Immigration records. The records also show a 36 year old Hermanes Termeer on the same ship, possibly a brother of Gerrit.
Wilhelmina Van Dommelen, her maternal grandmother, was born in Strijen, Zuid-Holland, on 30 September, 1869. With her parents and 9 siblings, she left the Netherlands for Michigan on 9 June, 1883.
Elizabeth's paternal grandparents married in Patterson, New Jersey and later moved to Grand Rapids, Michigan.
We do not have the exact reasons that our ancestors left the Netherlands during these times, but there were many problems which caused a number of people to migrate.
Some of the facts are:
1844-78 Emigration registers were compiled.
1845 A potato crop failure caused near famine, with terrible poverty and looting of bakery stores in the larger cities of Groningen and Friesland.
The export crops on the clay soils in the provinces of Zeeland, Friesland, and Groningen suffered from growing international competition. Dutch farmers could not compete with efficient North American farmers who could raise wheat far more cheaply on the fertile Great Plains. This forced Dutch commercial farmers to consolidate their holdings and buy new machinery to try to catch up with falling world prices. As a result, they laid off their day laborers by the tens of thousands.
The government provided employment through work projects. The distribution of grain was handled by the government.
1846 Reformed Church members (dissenters) left in groups for Michigan (Holland) and Iowa in the U.S.
1848-49 Cholera epidemics claimed 23000 lives.
1848 Constitution was revised, giving freedom of religion.
1849 Willem III became king.
There is more history of Ferwerderadeel, where the Boonstras and Wallendals were from. There is an article about the emigration to America at this site. Some of the information about the religious Secession is at this site.