From July 9 through July 24, 2008 a group of people traveled on a Grand Circle tour of Eastern Europe from Bucharest to Budapest. We began in Bucharest, Romania (A below), and then to Constanta (B) where we boarded the River Aria for a cruise on the Danube. Our next stop was at Ruse, Bulgaria (C) from where some of us visited Veliko Tarnovo and Arbanassi. Our cruise continued through the Iron Gates area (D) before docking in Belgrade, Serbia (E). From there, some took a bus trip to Novi Sad (F). On the cruise from Belgrade to Budapest, some took the side trip to Osijek, Croatia (G). For some of us the cruise ended with two days in Budapest, Hungary (H), while others continued on the cruise and still others went by bus to Prague (I) in the Czech Republic. This site will cover the last option.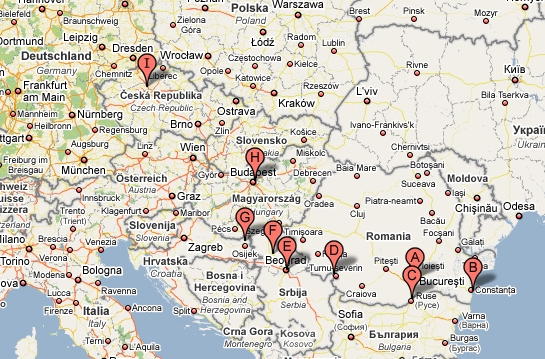 Go to the interactive Google map to see more details.
If you click on the name of the country in the navigation bar you will get more information on the country, including a link to a map, geographic and demographic information, as well as a short history.
To follow this tour you can either pick areas you would like to see from the drop-down menu at the top of each page or you can follow our itinerary by following the link at the bottom of each page to the next site.
The tour began in Bucharest in Romania.