Don's Genealogical History
 My ancestors' places of origin are in blue in the map below. The Kiels came from Goningen,(Upper right), the Boonstras from Friesland (upper left), the Brummels from Gelderland (central) and the Vinks from South Holland.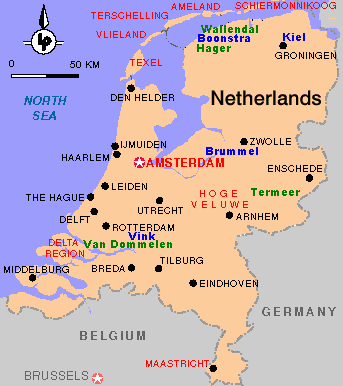 My paternal grandfather, Pieter Kiel, was born 9 May, 1855 near the village of Slochtern in the Province of Groningen. As a child of just over a year old, he made the voyage to the United States, with his father, Lammert Hendriks Kiel, his mother, Swaantje Kraak, and two brothers, Berend, and Hendrik. The ship was the South Carolina and it sailed from Rotterdam and arrived at the Castle Garden Immigration Center in New York on 22 July, 1856.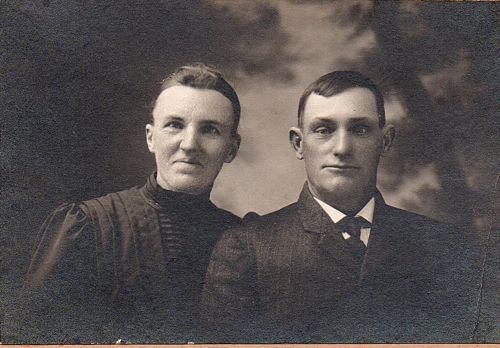 My paternal grandparents, Derkje Vink and Pieter Kiel.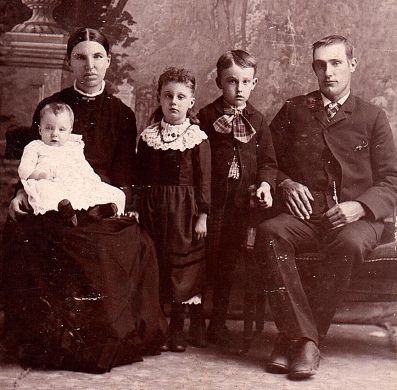 Derkje and Peter with their children, John, Mattie and Lambert Kiel, my father

Derkje

Vink

, my paternal grandmother, was born 12 December, 1860 in Noordeloos, Zuid-Holland. After her father, Arie Vink, had died, she sailed to America in 1865 with her mother, Mageltje (Vogel) Vink. In the US, Mageltje married Jan Van Rhee in 1867, pictured below, and they later lived in the old homestead with her daughter Derkje, who married Pieter Kiel.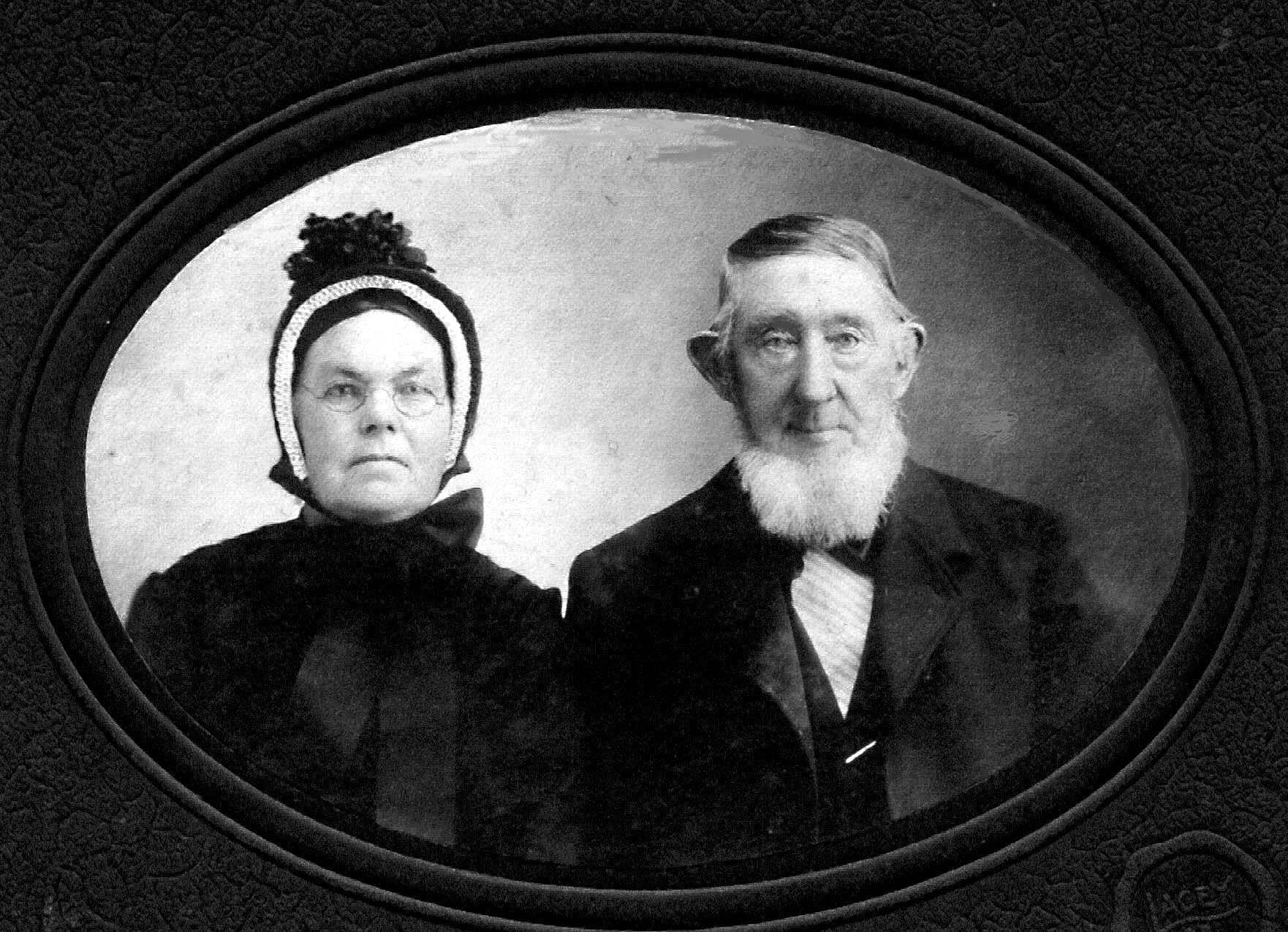 My paternal great-grandmother, Mageltje (Vogel) Vink with Jan van Rhee.
My maternal great-grandfather, Hendrik Brummel, was born in Doornspijk, Gelderland, on 27 August, 1815. He and his wife, Styntje Pruim, sailed from Antwerp on the Troy and arrived in New York at the Castle Garden Immigration Center on October 7, 1857. With them they brought their children, Gerrit, Dries, Hendrik, Jannigje, and Gerritje. Don's grandfather, Frank Brummel, was born in the United States, on 20 July, 1862. Below is a photo of Frank Brummel and Eke Boonstra and their 9 children. My mother, Elizabeth is the second from the left in the front row.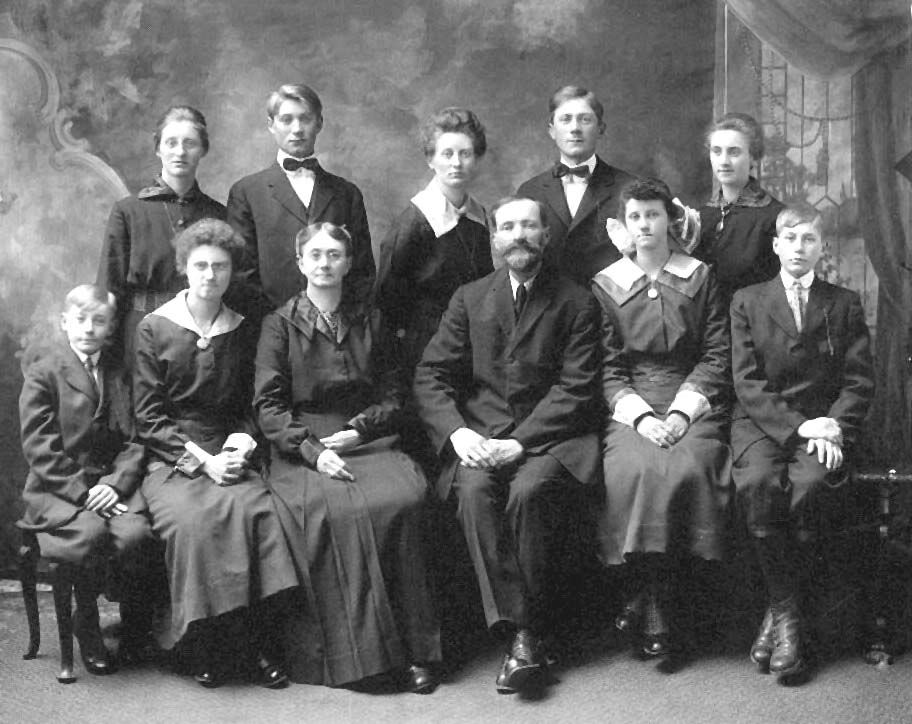 A later photo of the family includes the spouses of the children.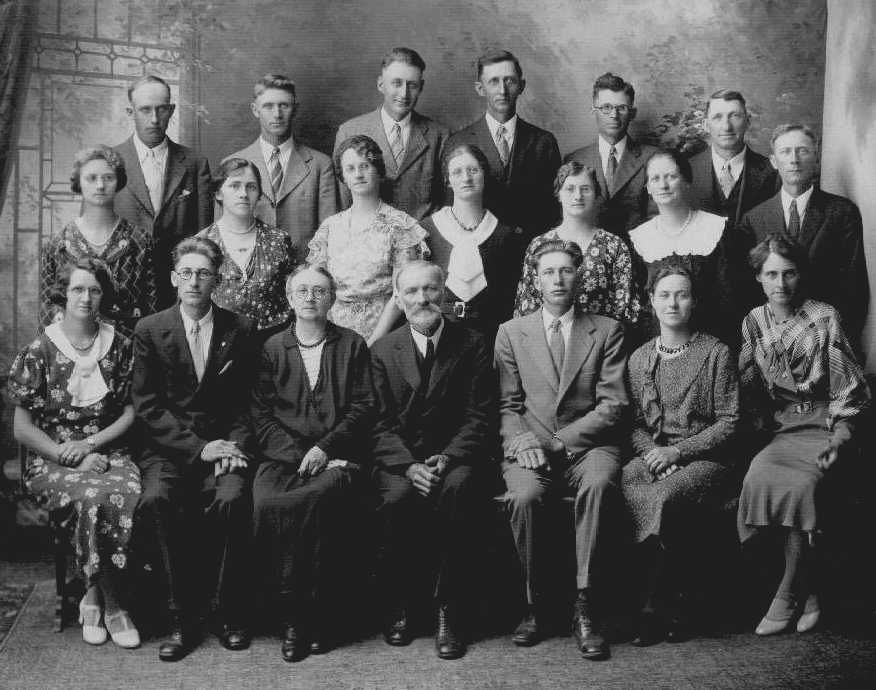 My father, Lambert, is at the left in the 3rd row and my mother, Elizabeth is at the left in the second row.
Dirk Boonstra, my maternal great-grandfather, was born 3 January, 1827, in Ferwerderadeel, Friesland. He sailed from Antwerp on the Benjamin Aymar and arrived at the Castle Garden Immigration Center in New Tork on June 15, 1857 with his wife, Maaike Hijma and 4 children, Eekijk, Aache, Maach, and Henah on the Benjamin Aymen. Don's grandmother, Ike (Eke) was born 11 April, 1868, in the United States.
All four of these families settled in Western Michigan in the area around Holland and Zeeland, where my grandparents met, married, and began raising their families.

 Kiel Name Meaning
German (common in the north of Germany and around Hamburg): in some cases probably a habitational name from the city of Kiel in Schleswig-Holstein, but more likely a topographic name for someone living by a long narrow bay or area of sheltered water, from Middle Low German kil 'wedge', the word from which the city derives its name. Alternatively, it may be from the same word applied as a nickname to denote a crude person. North German: possibly an occupational name for a ship's captain, short for Low German Kilmester (Middle Low German kil 'keel', 'boat' + mester 'master', 'skipper'). Kilmester is attested as a surname near Rostock in the 13th century. German: from a pet form of the personal name Kilian. Dutch: from Middle Dutch kidel, kedel 'smock', hence a metonymic occupational name for someone who make such garments or perhaps a nickname for someone who habitually wore one. Dutch: habitational name from a place so named in Antwerp or from the German city .
1. A Country Boy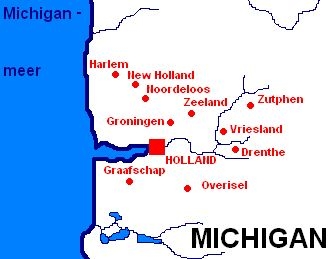 Born in a farmhouse about a mile south of the village of Drenthe, Michigan. on August 19,1931, I began life in a community of first and second generations of Dutch ancestry, as evidenced by the Dutch names of the villages and cities of western Michigan This meant that for the older people Dutch was the preferred language although by 1931 all now also spoke English as well.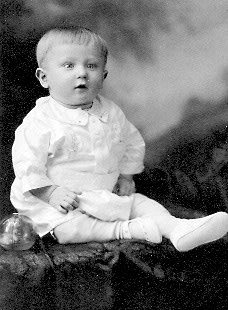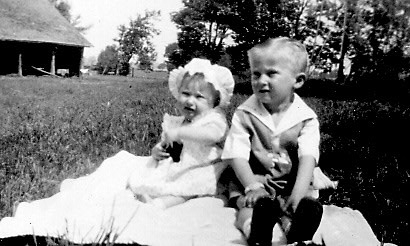 The photos above are of me at about the age of 1 and of me and my sister Pearl when I was about 4.
Our farm was located a mile from the two room grade school and we walked that distance every day with few exceptions. I remember one rainy day when my Uncle John drove us to school in his Ford Model T and twice in winter blizzards a neighbor came to pick us and his son up in a horse drawn sleigh. I enjoyed early grades in school since I could always hear the teacher teaching the higher grades. Also, our eighth grade arithmetic book had a section of algebra at the end and when we finished the book early she encouraged me to study that and I began to really like mathematics.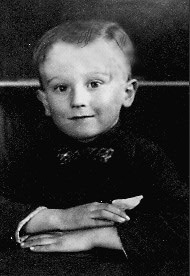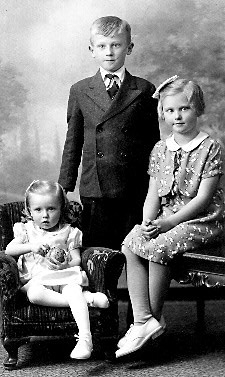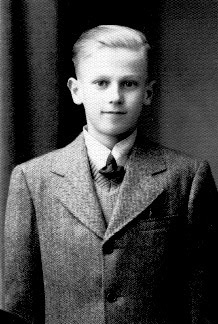 The photos above are of me in first grade, then of me with my sisters Pearl and Lois and my 8th grade graduation photo.  
Much of the farm work was involved with the feeding of the animals and other chores, but a more exciting time was the threshing season when the threshing rig would come to our farm. The threshing machine was pulled to the farm by a Advance Rumely Oil Pull tractor which also powered it by means of a long belt. The men would throw the bundles of grain into the hopper and the grain woud be separated out and bagged. The straw would be blown out into the barn for bedding for the animals thoroughout the year. I knew I had arrived as a helper when I was allowed to control the blower. In the video below the straw is blown on the ground.

A longer video of the threshing is avilable here.

Another busy time was the haying season. First the hay was cut and raked into rows. The hay would then be loaded into a wagon by a hayloader, shown in the short video below. When I was old enough I would drive the horses and my dad would distribute the hay in the wagon. Then a pulley system would be used at the barn to deposit the hay into the haymow. (We used a slightly different form of harpoon to carry the hay into the barn.

Before we moved from the farm, my dad was able to purchase a Ford Ferguson tractor, one of the first tractors to have a hydraulic system for implements. We had an attachable plow and I was able to do the plowing with the tractor, saving my dad the backbreaking work of doing it with a team of horses.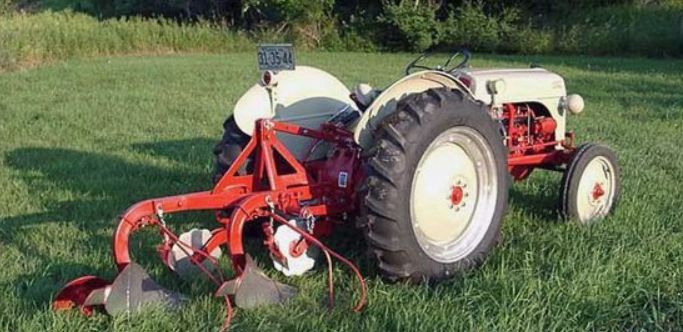 Our church in Drenthe was of the Christian Reformed denomination and still had one Dutch service each Sunday, although that ended by the time I was about 10.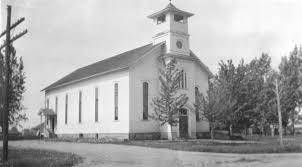 <
We went to a catechism class based on the Heidelberg Catechism each Saturday morning. We were usually given about 7 cents, 5 for the offering and 2 for "penny candy" at the local grocery store. Sometimes after catechism I would visit my aunt Mattie who lived in Drenthe and was the telephone operator for the area. A special treat there was a glass of cold milk from her refrigerator. It was a treat because at that time we did not yet have electricity so we had no refrigeration. We also went to Sunday School every Sunday and two church services, one in the morning and one in the evening. When I was high school age, I also went to a young men's Bible study at the church and there I also learned to play table tennis in a recreation room there.
That was about my only contact with sports, except for a bit of softball, first in the grade school lot which had a tree just behind second base! While in high school our village of Vriesland organized a softball team which played teams from other villages. We even played a few games in the lighted field in Zeeland.
2. High School
One of the advantages of this country school was that one of our neighbors, Johanna Van Dam, was a member of our church and a substitute teacher who took great interest in my education. At that time most boys in the community who finished eighth grade began to work on their father's farm and did not go to high school. Johanna encouraged my parents to find a way for me to go to high school. Our pastor at the time, Nelson Veltman, had an interest in Christian education for the children in the church and organized a Christian School Society for that end. The year I finished the eighth grade they had arranged to have a school bus from Hudsonville to Holland Christian High stop in Drenthe. By the next year they had purchased a bus of their own so I was able to pursue my high school education at Holland Christian High. I enjoyed high school, although I was not able to participate in after-school activities because it was difficult to get transportation for the 8 mile trip home. In my senior year I was able to use the family car to attend basketball games, where I took photos with the school's Speed Graphic camera and printed the photos in their darkroom.
About that time my parents realized that I would not be interested in continuing with the family farm and my father also had a hard time making a living with a small 80 acre farm. So they sold the farm and bought a small house in the village of Vriesland and my father started working full time at the Herman Miller furniture factory. One of my memories of that time was when he took me to work with him for a day and I was allowed to do some simple work on a lathe.
Along with summer jobs in the celery fields, weeding and trimming celery, I have another memory of the local schoolhouse which was closed in the summer. A friend showed me how to climb a tree to get to the top of a shed and from there to the school roof to the bell tower. From the tower we could get down into the school and peruse the library, where I found the Tom Swift series which comprised about 40 volumes at the time, totaling over 100 for 5 series. I have no idea how many that library had (certainly not all 40), but I read all they had and faithfully returned them on later visits. I am sure I read other books as well, but I now remember only the Tom Swift books. These books were the source of the "Tom Swifties", a name for the author's use of adverbs, in sentences such as ""Quick, what's my name?" asked Tom swiftly." and ""I hate math," Tom added."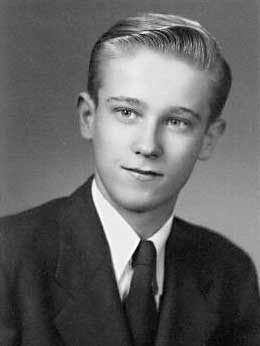 My high school graduation photo.
3. College
The next step in education for high school graduates in this community, if one were to go on, was Calvin College in Grand Rapids, Michigan, a college supported by the Christian Reformed denomination. For three years I lived in a private home during the week with 4 or 5 other students and went home for the weekends with a fellow student from Drenthe who had a car. In my senior year I had a car and lived at home and dropped my sister off each day in Hudsonville where she taught.
I was a math education major and it was in a calculus class where I got to know Elizabeth Ann Hager. I had been admiring her from a distance for some time and during that calculus class she changed her seat to one next to me and we soon began to study and do homework together.
We dated for the remaining two and a half years we had remaining at Calvin and planned life together after service. After about a year of dating we were engaged and looked forward to marriage after graduation and completion of my military service after deferments while in college.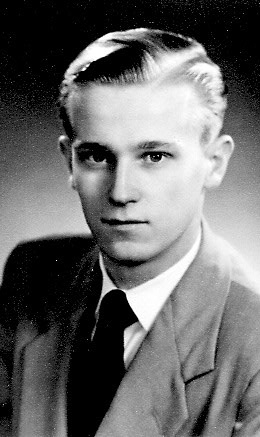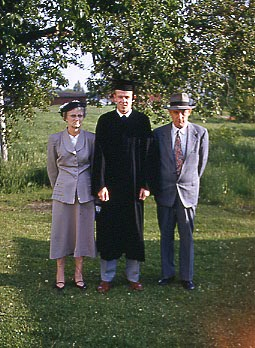 My Calvin graduation photo and a photo with my parents at graduation.
4. Military Service
The Korean War was being waged during the years of deferment I had to finish college, so on graduation I was drafted. During basic training in Fire Direction Control for the artillery the truce in the Korean took place, so I was fortunate enough to be sent to Europe instead of Korea. On arriving in Bremerhaven, Germany I was sent to Zweibrucken, Germany, as were all soldiers sent to Germany and France. There was an opening at the time in the Classification and Assignment unit there, so I spent over a year in that unit which was manned mostly by college graduates. We were able to make sure that college friends who came through this center got reasonably good assignments. One of my friends got a plum assignment in SHAPE headquarters in Paris. Another who was an electronics engineer was assigned to to a large depot where electronic equipment was repaired. We later enjoyed the friendship with both of these men and their wives in Los Angeles after we moved there. Another friend who had been a classmate at Holland Christian and Calvin wanted to bring his wife to Europe. He was assigned to Heidelberg where they were able to get off-base housing.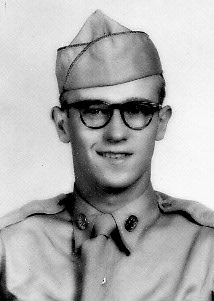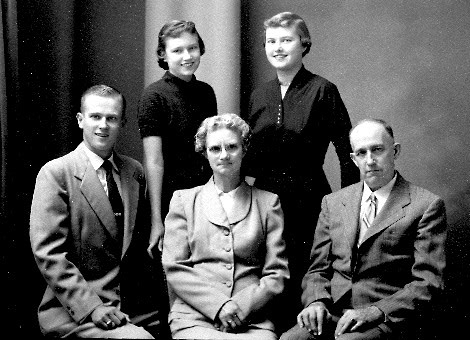 A photo after basic training and a photo with the family before I was deployed to Europe.
It was also during this time that I began my interest in travel. As a country boy I had only been out of the state of Michigan twice before I was drafted-both times to Chicago for a visit to the Field Museum there. My first plane trip was after my induction and took me to Fort Knox, Kentucky. In Europe we were able to board free military flights to different cities if seating was available. With friends from the base I took a flight to Paris on one occasion and to Amsterdam on another. The post also arranged weekend trips by bus and I was able to go to places like Heidelberg and Speyer and the Black Forest on those trips. I went by train on my own to Grindelwald in the Bernese Alps of Switzerland. These travels were mind blowing to someone who had never traveled. My letters to Elizabeth described these places and we were able to make many trips to Europe later to visit them together.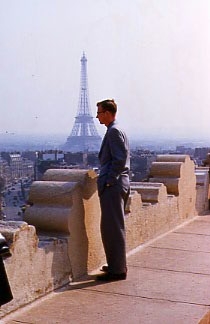 5. Married Life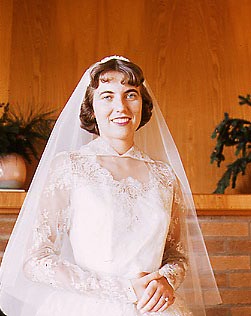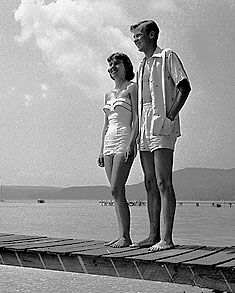 We were married in the Calvin Seminary Chapel shortly after I returned from my military service. I had hoped to begin teaching on my return to civilian life but there were no high school teaching jobs available at that late date. So after a honeymoon in northern Michigan I applied to University of Michigan for a Master's degree in Mathematics and I was accepted. We loved the city of Ann Arbor, especially the football games and the other activities.
Elizabeth worked in Ann Arbor until David was born. After receiving the Masters degree in Mathematics I accepted an offer to teach mathematics and physics at Kalamazoo Christian High School.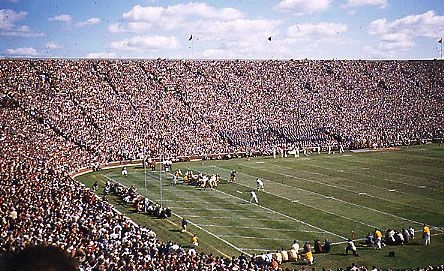 I taught there for three years during which our daughter Mary was born. While there I received a National Science Foundation fellowship to Ohio State University. This was just after Sputnik and the country was trying to upgrade the teaching of Mathematics. So I was able to take more graduate courses in mathematics along with a few courses in math education.
While at Ohio State the Vice President of what was then called Los Angeles State University visited on a recruiting trip. I was interviewed and after a short time was offered a position at Los Angeles State. Since Elizabeth's parents lived just over 50 miles away and it was the only offer I had it seemed like the right choice. So I accepted and Elizabeth's parents found a rental house for us just 4 miles from the campus. The house was in Monterey Park, which had a good school system for our children. While there Kathy and Nancy were born.
 6. University Teaching
I enjoyed teaching mathematics at Los Angeles State, whose name has since been changed to California State University, Los Angeles or CSULA. I had had a Numerical Analysis course at Ohio State involving the computer in solving problems, using mostly machine language so that was a ground-floor experience. Therefore I quickly became involved with the beginning computer science courses at CSULA. I also taught an advanced calculus class at USC as well as three NSF summer courses to expand the use of the computer in high school mathematics.
While at USC the Mathematics department chair suggested I apply to the Computer Science Ph.D. program they were just starting as a joint program between Mathematics and Electrical Engineering. I applied there as well as to NSF for a fellowship for the year of course work I would need for the degree. After the year of study I returned to teaching at CSULA as well as working on my thesis in Formal Language Theory, a good fit between Mathematics and Computer Science. The thesis is available here. I completed the thesis in 1974 and could devote more time to the Computer Science program at CSULA. This eventually resulted in a Computer Science undergraduate program there in the new department of Mathematics and Computer Science, which I chaired for 3 years.
I also taught classes at Jet Propulsion Lab part-time for 7 years, as well as extension classes in "new math" for elementary school teachers in the area. One extension class was on the use of computers for the workers at the Boron pit mine for the U. S. Borax company.
7. Family Travel
University teaching allowed time for us to travel. Although I usually taught one of our two summer sessions, I had time for a fairly long camping vacation most summers. We often went to the National Parks in the western states, such as Bryce, Zion, Sequoia, Yosemite or the Grand Canyon, both North and South rims. Some trips were shorter, such as camping at Big Bear, Goleta, Lake Cachuma, and slightly longer trips to Mesa Verde, Canyon de Chelly and Monument Valley. We spent one vacation traveling to the Pacific Northwest and and another longer one to the East Coast, when we visited family in Michigan as well as sights such as Niagara Falls, Cape Cod, Boston, New York City and Washington, DC. Much of this traveling was done in a Ford Econoline van which we called the "Kielmobile."
In the summer of 1974 we all went to Europe for 6 weeks to visit Elizabeth's sister, who was camping there for 5 years. She met us in Paris and I rented a VW Van to travel with her to Switzerland, Germany and the Netherlands. We especially liked the cathedral at Chartres, the Bernese Alps near Interlaken in Switzerland, the Kroller-Mueller Museum and the Rijksmuseum in the Netherlands. My interest in the artists of the Hague School began at an exhibition in the Rijksmuseum.
In 1984 Elizabeth and I took the whole summer off and spent 14 weeks camping in Europe. That was a wonderful trip as shown pictorially at http://www.dkiel2.com/Europe1984/ and a map at https://www.google.com/maps/d/viewer?mid=1HiA1iy2OO7Fk5nSTj3I366Tw78I&ll=50.302529156883814%2C0.10729759843752618&z=5 Locally at file:///C:/Dons%20site/Europe1984/test.html
During a sabbatical from CSULA we lived in La Jolla for part of the summer and I used the C++ programming language to convert many of my teaching programs from Java and Javascript. This provided two influences for me, a preparation for the NeXT Computer and a love of the San Diego area.
8. The NeXT Computer
After almost 30 years at CSULA I was beginning to tire of teaching. Fortunately at that time, Steve Jobs had just developed the NeXT computer and intended it for use in universities as a workstation. We were able to purchase a number of them at CSULA since It was ideal for university use. A group of faculty members from computer science, chemistry, physics, biology, geology and even art met almost every Saturday morning to share ideas and create software in the different disciplines. I did a lot of work on fractals and programmed a number of student applications. A number of us from our NeXT study group went to a conference in Detroit to share our results and Steve Jobs even treated us all to a dinner there.
The system design was well ahead of its time and offered a magneto-optical disc drive, sound and music capabilities and excellent graphics. It came with Mathematica software, a word processor and also with a number of smaller built-in applications, such as the Merriam-Webster Collegiate Dictionary, Oxford Quotations, the complete works of William Shakespeare, and the Digital Librarian search engine to access them.
The operating system was called NeXTstep and forced us to learn and use Objective-C, an object oriented programming language, which was one of the most respected object oriented programming languages of the time. Although the NeXT computer was not a commercial success, it was used to construct the first website in CERN in Switzerland.
These were refreshing years academically as I continued working with NeXT computer while teaching and advising students. I also managed a program which allowed schools with a large percentage of minority students to work on software for NSA.
In 1992 the state of California offered a "golden handshake" to senior faculty after two previous attempts to get this passed by both the legislature and the governor. On a Wednesday it was signed by the Governor and on Thursday we were given an orientation by the University and on Friday I signed up for retirement.
9. Retirement
After our sabbatical time in La Jolla in Mary's apartment and our many visits there to Mary and Kathy, who was working on her doctorate at UCSD, we decided to try to find a place to live as close to La Jolla as we could, We didn't really think it would be in La Jolla, but we were fortunate enough to find a condo rental just half a block from Wind and Sea Beach in La Jolla. We enjoyed the beach walks as well as other attractions of the area: the San Diego Zoo, Wild Animal Park, Seaworld and the museums in Balboa Park in San Diego.
After worshiping in smaller churches for most of our lives, we were also happy to become members of the La Jolla Presbyterian Church, which had good ministers, an excellent choir and an organ played by the San Diego city organist. Later we changed our membership to the Solana Beach Church where I worked on the church website and eventually we changed membership to the Rancho Santa Fe Village Presbyterian Church where I worked on their website and taught many Bible classes as well as classes on the Reformation and creeds of the church. I also taught a number of classes on the Dead Sea Scrolls when there was an exhibit at the San Diego Museum.
We lived in the La Jolla condo for 5 years before the owner decided to live in it herself. Through Elizabeth's shrewd shopping ability, we were fortunate enough to find a condo in Carmel Valley which we bought and lived in for 11 years, It was not only a nice place to live, but it enabled us to acquire enough equity for our next step.
10. Children and grandchildren
11. La Costa Glen
It was a big decision to leave our condo, which we liked very much, to move to the retirement community of La Costa Glen, but we were heeding a warning we had received many years before to "not wait too long." We were also encouraged by friends from the church who already had moved there. So we ventured out in faith and things seemed to work out well. We had gained just enough equity in our condo that we could afford it without dipping into our retirement savings.
On moving in, Elizabeth really appreciated not having to plan meals or shop for them or cook them. We also appreciated the opportunity for socialization with both old and new friends here, something we had done less of in our condo. We also became involved with programs and committees: Elizabeth to the Food and Beverage Committee and I to the Computer Committee. When the time came to improve our intranet, the Portal, I was very active in its design and maintenance.
It is here also that we continue to enjoy a number of Great Courses, especially in Art and Music, which Elizabeth shows in our theatre one afternoon a week. This has encouraged me to study more about the Hague School as I prepared to give my second lecture on that topic. (see http://www.dkiel2.com/HagueSchool )
I showed two longer term DVD courses on Sunday afternoons, one on the Old Testament and one on the New. As a result of these, I became involved in discussions with Jeremy Stone about religion and later in groups he organized to study climate change, big data and even string theory. From him I learned to be, not a skeptic, but more skeptical of beliefs in many areas. As a result I have written an ebook about some of the attributes of God and another on the History of the Hebrew Bible
12. Continued Travel
Here we continued to visit the attractions of San Diego as well as continue our travels to Europe, including about 15 additional trips, some we planned ourselves and many with tour group companies such as Rick Steves and Grand CIrcle. Check the travel links at http://www.dkiel2.com/
13. Genealogy
It was on our trip in 1984 that we decided to find out more about our ancestry. Elizabeth had been told that her grandfather was from Leeuwarden in Friesland, a northern province of the Netherlands. So we went to the local archives there and a helpful person told us about the records of gemeentes (like our townships) with the number of people with the surname you were searching for. So we found the gemeentes where the Hager name was most prevalent and we found her grandfather birth record. From there we were able to go back a few generations to begin our construction of her family tree. We were so delighted that we spent a day in Groningen where my grandfather was from. A man who worked for the archives there found my grandfather and 3 or 4 generations further back. So we not only had the information but learned how to use the records to get more ancestors. We continued the process in later visits to Salt Lake CIty where the LDS church had microfilms of many of the church records. Then the internet came along and many of these records are now online and we were able to improve our genealogy to as many as 12 generations back in one line.
In 2017 I had my DNA tested and have learned much about my ancient ancestral history. (See at http://dkiel2.com/Genetics )